Home Page of
TangSooJ

| | |
| --- | --- |
| My name is John, but they call me J, because my Dad has the same first name. I am a second degree black belt in Korean Tang Soo Do. I belong to the United Martial Arts Federation. I love the martial arts and I teach sometimes in a DoJang in the town where I live. I am learning the Reiki healing technique, and I do some meditation. I love to dance and I go to almost all of the new movies when they are released. I was born in Passaic, New Jersey, but now live in West Virginia. I am new to computing and chatting and have been asked several times what I look like. I decided to ask my friend, who writes web pages to see what she could come up with, so here we are! | |
| | |
| --- | --- |
| | |
| My Cho Dan Bo Uniform | My 1st Degree Uniform |
I'm still waiting to have pics taken of my 2nd Degree Uniform.
This is the logo of the Federation to which I belong.
It was founded in 1986 by Grandmaster Young H. Kwon and his brother Grandmaster Young K. Kwon.
The six colors embellished on the logo represent the original belt system of the Federation.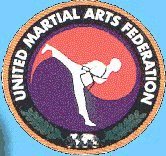 Email Me at TangSooJ@hotmail.com
This page is the responsibility of TanSooJ, not Tripod.
Comments or Suggestions - email Webmaster
| | |
| --- | --- |
| This page was updated 10/8/07 | |

2001 - 2012
©2002 - 2013 - Web Design By "Oscette"@ptd.net